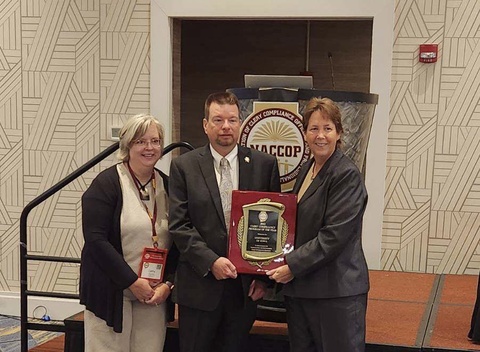 The University of Iowa's Office of Clery Compliance has been recognized for its outstanding work in Clery Act Compliance by the National Association of Clery Compliance Officers and Professionals (NACCOP).
The annual award recognizes an institution that has gone above and beyond to integrate compliance into the day-to-day operations of key units that support compliance. The award also prioritizes institutions that implement best and emerging practices to ensure compliance with both the letter and spirit of the Clery Act.
The UI's Office of Clery Compliance continually seeks to improve and align with best practices as guidance shifts and new technologies emerge. However, over the last seven years, the UI's program has made significant changes, including:
Highlights include:
Creating the Office of Clery Compliance
Completing Clery Compliance Officer Certification through NACCOP
Adopting software that streamlines the reporting process into one centralized database
Working with University Human Resources to automatically identify people who have reporting responsibilities to ensure they receive the appropriate training and reporting reminders
Retaining a consultant for Clery compliance as questions arise and for outside reviewing of the university's annual security report
Regularly engaging with Big Ten and state university peers to share advice on emerging issues.
Cathy Noska, Director of Clery Compliance, and Dave Visin, Senior Director of Administrative and Security Services, accepted the award on behalf of the institution at the 10th annual NACCOP conference in July 2023.
The Clery Act
The Jeanne Clery Disclosure of Campus Security Policy and Campus Crime Statistics Act (Clery Act) is a federal law requiring all institutions of higher education participating in the federal student financial aid program report campus crime data, support victims of violence, and publicly outline the policies and procedures they have put into place to improve campus safety. The university meets these requirements by disseminating a public annual security report (ASR) to employees and students by Oct. 1 each year.
The Clery Act also requires institutions to provide students and employees with a timely warning (Crime Alert) for crimes that occur in the campus Clery geography that may represent a serious or continuing threat, or an emergency notification (Hawk Alert) for emergencies that may present and immediate threat to the safety of the community.
You can learn more about the Clery Act by visiting the U.S. Department of Education website.
The National Association of Clery Compliance Officers and Professionals (NACCOP) provides a professional association for Clery compliance officers and professionals to collaborate with each other, share resources and best practices. Members are also offered opportunities to participate in professional development engagements that support colleges and universities in their efforts to comply with the Clery Act.
Though Clery Act Compliance is an institution-wide effort and responsibility, compliance is led by the Office of Clery Compliance in the Campus Safety organization.